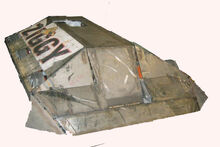 Ziggy was a Superheavyweight robot built by Canadian team CM Robotics that competed in the 2005 BattleBots Rochester R3. It was a six wheeled robot with a low wedge on the front, and was armed with a powerful pneumatic launcher that the team dubbed "The Haymaker". Ziggy did well in the competition, becoming the superheavyweight runner-up. Part of the team that built Ziggy would go on to form Lucky Canucky Robotics, which entered Season 2 of the ABC Reboot with Lucky, to no success.
Robot History
BattleBots Rochester R3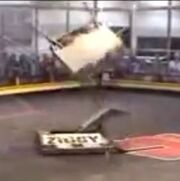 After receiving a bye in the first round, Ziggy's first match was against Shovelhead. It lost this fight, and was now in the losers bracket where it faced Star Hawk 3.0. As soon as the match started Ziggy got underneath Star Hawk, and flipped it over. Ziggy then took Star Hawk to the arena side wall, and attempted to toss it out the arena. This however failed, and Ziggy took it to the pulverizers before flipping it back over.
Star Hawk then shoved Ziggy into the wall before driving onto Ziggy's wedge where it got flipped over again. This time however Ziggy did not flip Star Hawk back over, and it was counted down, giving Ziggy the win by knockout. This put Ziggy up against Black Knight. It won this fight, and was now in the losers bracket finals against Steel Reign. It beat Steel Reign, and advanced to the finals where it faced Shovelhead again. It lost this fight and became SuperHeavyweight runner-up of the BattleBots Rochester R3 event.
Wins/Losses
| Competition | Wins | Losses |
| --- | --- | --- |
| BattleBots Rochester R3 | bye | Shovelhead (x2) |
Trivia
Ziggy was one of the last two SuperHeavyweights to ever compete, fighting Riddle Box in the last ever SuperHeavyweight match in the history of Robot Combat during RoboGames 2010.
See Also
Ad blocker interference detected!
Wikia is a free-to-use site that makes money from advertising. We have a modified experience for viewers using ad blockers

Wikia is not accessible if you've made further modifications. Remove the custom ad blocker rule(s) and the page will load as expected.