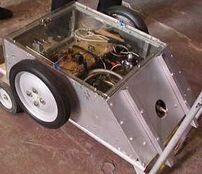 Yoshikillerbot was a middleweight robot which competed in Season 4.0 of BattleBots. It was pretty much a smaller version of heavyweight Yoshik but armed with a retracting spike. It didn't perform well in competition, losing its first match to Tesla's Tornado.
The team also entered Mr. "D" in the middleweight class and Dude of Destruction into the lightweight class.
Robot history
Season 4.0
Yoshi comes out slowly and meanders around, unable to stay in the starting square so the fight can begin. It never actually moves when the fight starts. Tesla spins noisily and, using the Melty Brain technology, moves over to the center of the box, but no further, he had a hard time translating. Yoshi tapped out, though.
For reasons that aren't clear, this match was fought a second time (supposedly the Yoshi guys had apparently misunderstood something in the last fight, or something like that). This time Yoshi came out and took a hit from Tesla's, and immediately let the smoke out and died. Tesla's spun around it, moving slowly and in the wrong directions and not getting another hit before Yoshi tapped out yet again. This gave Tesla's Tornado the victory by KO.
Wins/Losses
Ad blocker interference detected!
Wikia is a free-to-use site that makes money from advertising. We have a modified experience for viewers using ad blockers

Wikia is not accessible if you've made further modifications. Remove the custom ad blocker rule(s) and the page will load as expected.