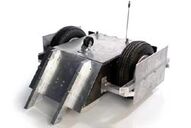 Yoshik was a heavyweight robot which competed in Season 3.0 of BattleBots. It was a silver two-wheeled robot armed with two skinny front wedges. It didn't perform well in competition, losing its first match to B.O.B.
The team also entered Season 4.0 with middleweight Yoshikillerbot, Season 5.0 with middleweight Mr. "D" and Season 4.0 and 5.0 with lightweight Dude of Destruction. An updated version of Yoshik, armed with a lifting arm and rear thwacking tail, was entered into the first season of Robot Wars: Extreme Warriors as Skullmania, but it was forced to drop out due to damage before being the first bot to be eliminated in the Annihilator.
Robot history
Season 3.0
Wins/Losses
| | Wins | Losses |
| --- | --- | --- |
| Season 3.0 | None | B.O.B. |
See Also
Ad blocker interference detected!
Wikia is a free-to-use site that makes money from advertising. We have a modified experience for viewers using ad blockers

Wikia is not accessible if you've made further modifications. Remove the custom ad blocker rule(s) and the page will load as expected.