WulfBane
was a middleweight robot which competed in Seasons 3.0 and 5.0 of
BattleBots
(it was also registered to compete in Season 4.0, but the team's truck broke down en route to the event, meaning it was unable to compete). It was originally a box-shaped robot armed with a thwacking battle-axe weapon which could also be used as a battering ram, but it was revised for Season 5.0 to have both a rear wedge and a hinged arrowhead-shaped front wedge. WulfBane did decently in both of its seasons, winning two matches in both seasons of competition.
The team that built WulfBane also built a lightweight named Blue Vixen.
Robot history
Season 3.0
Season 5.0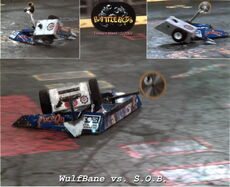 Wins/Losses
Ad blocker interference detected!
Wikia is a free-to-use site that makes money from advertising. We have a modified experience for viewers using ad blockers

Wikia is not accessible if you've made further modifications. Remove the custom ad blocker rule(s) and the page will load as expected.