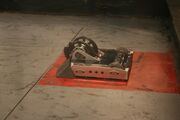 Witch Doctor
was a middleweight robot built by Team Busted Nuts Robotics which competed in the professional class at the 2011 BattleBots event in Miami. It was a wedged robot armed with two spinning discs. It did well, winning the event championship.
Witch Doctor would be redesigned and paired with a smaller flamethrower in order to compete in the 2015 BattleBots reboot on ABC.
BattleBots 2011 (College Competition)
Wins/Losses
Ad blocker interference detected!
Wikia is a free-to-use site that makes money from advertising. We have a modified experience for viewers using ad blockers

Wikia is not accessible if you've made further modifications. Remove the custom ad blocker rule(s) and the page will load as expected.