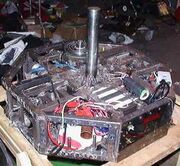 White Rabbit
was a superheavyweight robot that was at Season 4.0 of BattleBots. The robot was apparently armed with two counter-rotating 83-pound blades spinning at 2000 RPM. The teenagers behind it claimed that the
BattleBox
would be unable to contain it (However, it had a secondary 1000 RPM gearing in case its weapon would be deemed unsafe.), and the team's attitude in this boast meant it was very much derided by the BattleBots online community going into the event. However, it was unfinished before or even during the competition, and when the robot was mostly assembled at the end of the event, they realized a vital component to their spinning weapon was missing.
They were forced to forfeit their match against Bucky the Beaverbot after failing to even have the bot half-built by the time safety inspections closed. In addition the team collected roughly half of the pit-safety violation notices issued during the event for violating pit safety rules.
White Rabbit was named after the Killer Rabbit of Caerbannog from Monty Python and the Holy Grail, as was the team- Team Python.
Trivia
White Rabbit is one of three robots whose name is inspired by Monty Python, the others being Biggus and None Shall Pass.
For many years afterwards, a team that made outrageous claims with little to back it in the way of actual competition was called 'white-rabbiting'.
Team Python would later enter the much more successful Chimera into the Beetleweight division of the NPC Charity Open where it managed to reach the quarterfinals.
Ad blocker interference detected!
Wikia is a free-to-use site that makes money from advertising. We have a modified experience for viewers using ad blockers

Wikia is not accessible if you've made further modifications. Remove the custom ad blocker rule(s) and the page will load as expected.