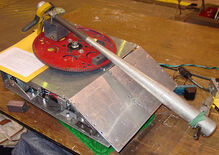 Wham! Bam! was a lightweight robot which competed in the final three seasons of BattleBots. It was a silver wedge-shaped robot armed with a horizontally-swinging baseball bat. It performed poorly in competition, reaching the round of 64 in Season 4.0.
Robot history
Season 3.0
Wham! Bam!'s first opponent was Half Ass N Random. Half Ass N Random won by KO at 0:48 and Wham! Bam! was eliminated.
Season 4.0
Wham! Bam! first match was against Burning Metal; the robots did the circle-and-push routine. Wham's bat swung over the top of Burning Metal, not doing anything in the match. To deal with that, Wham got underneath and shoved Burning Metal around some, then Burning Metal got under Wham in turn, and pushed him into the wall twice. The judges decided the pushing match with a 23-22 decision in the favor of Wham! Bam!.
This put Wham! Bam! against Serial Box Killer. The two bots circled each other and Serial Box whacked Wham with his tail a few times. Wham got a couple of taps of Serial with the bat, as well. He also pushed Serial pretty well once, and then smakced him into the spikes. Serial got stuck under the spikes a couple of times, but got free, and then smacked Wham into the wall. Wham got a few more little bat hits as time ran out. Throughout the match, Serial Box Killer had a slight pushing advantage, which may have given it the win in a 23-22 decision.
Season 5.0
Wham! Bam!'s First match this season was against Cleprechaun. It lost by KO, and was eliminated from the competition.
Wins/Losses
Ad blocker interference detected!
Wikia is a free-to-use site that makes money from advertising. We have a modified experience for viewers using ad blockers

Wikia is not accessible if you've made further modifications. Remove the custom ad blocker rule(s) and the page will load as expected.