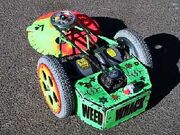 Not to be confused with Season 3.0 lightweight Weed Wacker
.
Weed Whacker was a middleweight robot built by Team Circuit Breaker which attended Season 5.0 of BattleBots. It was a green robot armed with a very powerful horizontally-spinning toothed flywheel but it was very high and really struggled to hit wedges and low robots. However, before its first match, the team was expelled due to safety and security violations and thus Weed Whacker never fought. Despite this it did compete in the first Steel Conflict losing twice, and the SouthWest Division Championship winning one fight and losing the other.
Ad blocker interference detected!
Wikia is a free-to-use site that makes money from advertising. We have a modified experience for viewers using ad blockers

Wikia is not accessible if you've made further modifications. Remove the custom ad blocker rule(s) and the page will load as expected.