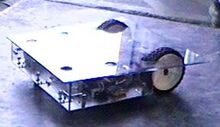 Not to be confused with middleweight also known as Weed Whacker
Weed Wacker was a Lightweight robot built by Oliver Musy-Verdal that competed at Season 3. It was a two wheeled, invertible box shaped robot made entirely out of Lexan. Weed Wacker did not do well in the competition, losing its first fight in its only appearance.
Robot history
Season 3.0
Weed Wacker's first (and only) fight was against fellow newcomer Death By Monkeys. It lost by KO, and was eliminated from the competition.
Wins/Losses