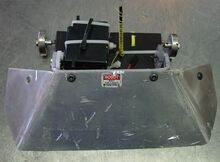 Wallop was a Beetleweight robot built by Team Nightmare that competed at the 2004 NPC Charity Open. It was a Black, four wheeled robot held together with zip-ties, armed with a servo driven Titanium lifting plow. Wallop's wheels were magnetic in order to get an advantage on arenas with steel floors, and they were driven by four B62 gear motors. For power it used 22.2 Volts worth of LiPo's.
Wallop did well in BattleBots reaching the semifinals before losing to the eventual champion: One Fierce Upper-Cut. Wallop also competed in ROBOLympics 2004 where it came in second place, and after being completely rebuilt, took part in the 2004 RFL Nationals which it won. It then took part in numerous other smaller events to mixed results before finally being retired in 2011.
Robot History
NPC Charity Open
Wallop's first match was against One Fierce Weed Wacker. It won this fight, and advanced to the next round where it faced Nemo. It won yet again, and next faced the wedge of /dev/null. It beat /dev/null putting it in the semifinals where if faced Buzzkill. It lost this fight, and was now in the loser's bracket finals where it faced One Fierce Upper-Cut. It lost this fight as well, and was eliminated from the competition.
Wins/Losses
Trivia
Wallop's wheels were made of Neodymium magnets, and were so powerful the the bot could literally drive upside down or vertically on a steel surface.
Ad blocker interference detected!
Wikia is a free-to-use site that makes money from advertising. We have a modified experience for viewers using ad blockers

Wikia is not accessible if you've made further modifications. Remove the custom ad blocker rule(s) and the page will load as expected.