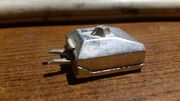 Vlad the Impaler 
was one of fifty robots to be made for the
MiniBots
line. Its mold is incredibly accurate despite the large seam across the middle. It is possibly based on the Las Vegas 1999 version of Vlad as it lacks Vlad's name or its sponsor's logo. Vlad the Impaler is special amongst MiniBots. Since Vlad was a finalist in Season 2.0, it was given a rare ChromeBot variant (the same mold painted in metallic silver).
Ad blocker interference detected!
Wikia is a free-to-use site that makes money from advertising. We have a modified experience for viewers using ad blockers

Wikia is not accessible if you've made further modifications. Remove the custom ad blocker rule(s) and the page will load as expected.