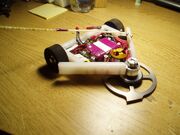 UnderWHERE?! was an Antweight robot built by Team Hazardous Robotics that competed in the 2004 NPC Charity Open. It was a two wheeled, invertible robot, armored in UHMW plastic, and armed with a very powerful undercutting disc. However despite this potent weaponry UnderWHERE?! experienced new robot issues, and as a result did poorly, losing both of its fights.
After the NPC Charity Open UnderWHERE?! would compete at multiple other events, doing very well in most of the events it entered into until it was retired in 2014.
Robot History
2004 NPC Charity Open
UnderWHERE?!'s first fight was against Arsenic. It lost this fight, and was now in the losers bracket where it fought ...Tysant. It lost this fight as well, and was eliminated from the competition.
Wins/Losses
| Competition | Wins | Losses |
| --- | --- | --- |
| 2004 NPC Charity Open | None | Arsenic |
Ad blocker interference detected!
Wikia is a free-to-use site that makes money from advertising. We have a modified experience for viewers using ad blockers

Wikia is not accessible if you've made further modifications. Remove the custom ad blocker rule(s) and the page will load as expected.