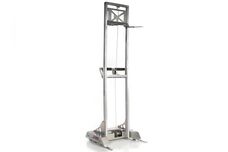 Tower of Power was a middleweight robot which competed in Season 3.0 of BattleBots. It was a 7-foot tall robot armed with a forklift which could lift a robot the entire 7-foot distance. It was known for being the tallest robot to ever compete on BattleBots. It didn't perform well in competition, losing its first match against Gungnire.
Tower of Power was built by Dan Haeg who also entered Paranoid Android into the Long Beach 1999 competition, which did better. Paranoid Android was actually meant to be the base for Tower of Power.
Robot history
Season 3.0
Tower of Power's only match was against the student-built Gungnire. Surprisingly despite Tower of Power's great height, it manage to avoid losing by KO (assuming it was ever tipped over), but it did lose by a 23-22 judge's decision which got it eliminated.
Wins/Losses
Ad blocker interference detected!
Wikia is a free-to-use site that makes money from advertising. We have a modified experience for viewers using ad blockers

Wikia is not accessible if you've made further modifications. Remove the custom ad blocker rule(s) and the page will load as expected.