Toro
was one of sixteen robots from
BattleBots
to be replicated in the Game Boy Advance game
Battlebots: Beyond the BattleBox
as well as its "sequel"
BattleBots: Design and Destroy
. It was not a very faithful replica, as it kept its horns on during battle, lacked any of the real robot's sponsors, and had a much more shallow flipping arm than its real-life counterpart. In battle, it is fairly effective against most of the other superheavyweights thanks to their inability to self-right, but it is the least damage-dealing of the four. In Tournament Mode, Toro is your last opponent.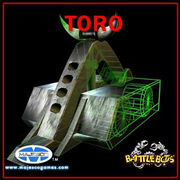 Ad blocker interference detected!
Wikia is a free-to-use site that makes money from advertising. We have a modified experience for viewers using ad blockers

Wikia is not accessible if you've made further modifications. Remove the custom ad blocker rule(s) and the page will load as expected.