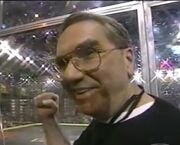 Thomas "Tom" Petruccelli was a battlebots competitor, known as the builder of middleweight Bad Attitude and lightweight The Crusher. He also was responsible for building middleweight Turtle (Turtle Road Kill) in 1994 as a combat robot for Sam Steyer. Turtle would later be given to and upgraded by Jim Smentowski in season 4.0.
Petruccelli's Crusher competed in every original Battlebots tournament that offered their weight class. Crusher was driven by then 9-year old Gus Steyer during the Long Beach 1999 and San Francisco 2000 competitions before Petruccelli took up driving duties for season 2.0. He performed decently in competition, reaching the lightweight quarterfinals in season 2.0 before losing to Beta Raptor built by Chuck Pitzer. He also holds distinction as being the only competitor to flip Jason Bardis' Dr. Inferno Jr.. When pleaded by Bardis during the match to help right Dr. Inferno Jr. so the match could continue, Petruccelli humourously responded "Not a chance!" and took the KO.
Petruccelli's middleweight Bad Attitude was also successful, reaching the semi finals in season 2.0 before losing to the eventual champion Spaz and the quarter finals of season 4.0 before losing to Complete Control
Petruccelli was one of the oldest battlebots competitors, and was known for his love of the sport and his humbleness. Petruccelli was praised by many builder for his driving skill with Bad Attitude; Reagan Designs (T-Wrex) stated in their season 3.0 diaries that he was "considered the best middleweight driver in the tournament." Despite this, Petruccelli himself denied his ability as a driver in several pre and post fight interviews.
Sadly, Petruccelli passed away unexpectedly on May 3, 2010 due to a heart attack. He was 76 years old.
Outside of Battlebots
Petruccelli served in the United States Army as an engineer. Following his service, he received his degree in Mathematics from St. Bonaventure University in 1963.
Ad blocker interference detected!
Wikia is a free-to-use site that makes money from advertising. We have a modified experience for viewers using ad blockers

Wikia is not accessible if you've made further modifications. Remove the custom ad blocker rule(s) and the page will load as expected.