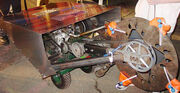 Timber Wolf
was a Superheavyweight robot that competed in Seasons 4.0 and 5.0 of
BattleBots
. It was built by Team Timberwolf and John Tuminaro Jr. and armed with a gas-powered vertical spinning disc. Timber Wolf had no success in the Battlebox, losing both of its fights.
Robot history
Season 4.0
Timber Wolf's first fight was with The KillDozer. KillDozer tried to push its rear spike into Timber Wolf, but it was too high up. Timber Wolf got around Killdozer's side for one good hit, but then had a spontaneous failure and died, and was rammed full of dents on the spikes by the slow, strong KillDozer. KillDozer got the KO and Timber Wolf was eliminated.
Season 5.0
Wins/Losses
Ad blocker interference detected!
Wikia is a free-to-use site that makes money from advertising. We have a modified experience for viewers using ad blockers

Wikia is not accessible if you've made further modifications. Remove the custom ad blocker rule(s) and the page will load as expected.