Thumper
was a middleweight robot that was made by team RedBaron and competed in Seasons 4.0 and 5.0 of BattleBots. Thunper was armed with an overhead horizontal spinning weapon. Unfortunately, Thumper had no success in battle, losing both of its fights.
Team RedBaron also made lightweight
Helmie the Robot
.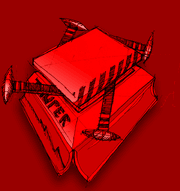 Robot history
Season 4.0
Little Pharma rammed Thumper, but then Thumper struck back and got under Little Pharma and hit him with his disc. The disc died after a few hits, and it became another pushing match. Thumper got a few good hits, but one of his skirts fell off. Thumper also appeared to have a pushing advantage, but it wasn't enough to sway judges, who went 33-12 for Little Pharma.
Season 5.0
Ad blocker interference detected!
Wikia is a free-to-use site that makes money from advertising. We have a modified experience for viewers using ad blockers

Wikia is not accessible if you've made further modifications. Remove the custom ad blocker rule(s) and the page will load as expected.