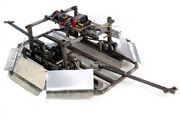 The Wacky Compass
was a lightweight robot that fought at BattleBots Season 3.0. It was a walkerbot (technically a shufflebot, but the rules for shufflebots had yet to be implemented), supposedly armed with a spinning bar to take advantage of the increased weight limit for walkers, but it was over the weight limit (even with the increased weight bonus) and had to be removed, being replaced with two static metal bars. It only won a single fight in Season 3.0, but still appeared on television.
After BattleBots ended the team that created The Wacky Compass built another lightweight robot called Son of Wacky Compass, using a wheeled wedge design with a horizontal spinning blade like its predecessor and it was a lot more successful, scoring victories in numerous competitions and even winning RoboGames in 2006.
Robot History
Season 3.0
The Wacky Compass recieved a bye for the first round, as its opponent dropped out. In round 2, it fought Black Warrior. Black Warrior was dominating the fight, as it was able to outmaneuver the slow Wacky Compass, but a fuse blew on its radio reciever and incapacitated it. Wacky Compass advanced to the third round where it fought Wedge of Doom. In the fight, Wacky Compass was barely able to move before Wedge of Doom rammed it, bending one of the side armor plates, and then pushed it into the killsaws. The hit from the killsaws sent several more armor pieces flying. Wacky Compass was visibly dead, as the armor was bent around the edges and keeping it from moving although it was still attempting to move. Wedge of Doom finished off Wacky Compass by pushing it under the pulverizer and flattening it. This ended the match and Wacky Compass was eliminated from the tournament.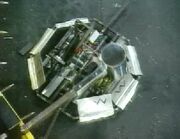 Wins/Losses