The Reading Terror Squad was a Hobbyweight robot that was built by Anarchy Robotics that competed at the 2004 NPC Charity Open. It was a Black, and White, four-wheeled, invertible box shaped robot with a front hinged wedge/plow combo.
The Reading Terror Squad did not do very well in battle, as it seemed to suffer from frequent drivetrain issues after its first battle. Regardless of this, due to a lack of Hobbyweight entries it did manage to reach the quarterfinals before losing to Natasha.
Reading Terror Squad was retired shortly after the NPC Charity Open, after coming second in the 2004 House of NERC, Beating Gone Postal twice along the way. The team that built Reading Terror Squad also entered Amish Rebellion into the Middleweight division of the NPC Charity Open, where it fared just as poorly.
Robot History
NPC Charity Open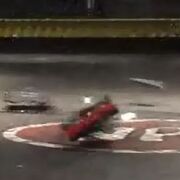 The Reading Terror Squad's first fight was against
Another Fierce Weed-Wacker
. This fight started with AFWW immediately getting a hit on The Reading Terror Squad, and doing a slight gyrodance. AFWW recovered and The Reading Terror Squad attempted to deliver a hit to it from behind, however this failed and AFWW delivered another hit.
The Reading Terror Squad then rammed into the flywheel of AFWW, this sent both robots flying. When the dust settled it became apparent that The Reading Terror Squad have its wedge ripped off in the attack, but it did not matter as The Reading Terror Squad stopped moving and tapped out shortly afterwards.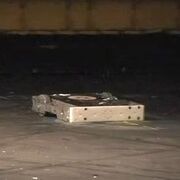 This meant that The Reading Terror Squad was now in the loser's bracket where it received a bye, and faced Rellik. Unfortunately The Reading Terror Squad had taken so much damage in its fight with AFWW that it was now reduced to a two wheeled robot, severely hindering its mobility.
This would not matter at all however because as soon as the fight began Rellik immediately began having problems with both its drive, and weapon. These issues were so bad that by the time The Reading Terror Squad had made its way over to Rellik the latter had broken down.
Rellik then tapped out meaning The Reading Terror Squad was now in the quarterfinals where it faced Natasha. This would be a relatively dull fight with neither robot making contact with each other much, and Reading Terror Squad not working properly. Natasha won the judges decision, this meant that The Reading Terror Squad was eliminated from the competition.
Wins/Losses
Ad blocker interference detected!
Wikia is a free-to-use site that makes money from advertising. We have a modified experience for viewers using ad blockers

Wikia is not accessible if you've made further modifications. Remove the custom ad blocker rule(s) and the page will load as expected.