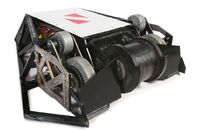 The Dentist is a robot that was built by the MIT Combat Robotics Club for the second season of ABC's BattleBots reboot. It was armed with a spinning drum, which was driven by the electric motor out of a Toyota Prius. However, the team had to create a custom motor controller to handle this weaponry, which ended up not working, so the team was forced to drop out.
Some members of the team also competed with Overhaul in the first season of ABC's BattleBots, which reached the quarterfinals.
Ad blocker interference detected!
Wikia is a free-to-use site that makes money from advertising. We have a modified experience for viewers using ad blockers

Wikia is not accessible if you've made further modifications. Remove the custom ad blocker rule(s) and the page will load as expected.