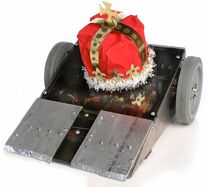 The Archduke was a lightweight robot built by Team Poison Fists which only competed in Season 3.0 of BattleBots. It was a simple two-wheeled wedge design with no active weapon. It did well in its only season, reaching the round of 32.
Team Poison Fists returned for Season 5.0 with the middleweight WhirlWind.
Robot History
Season 3.0
The Archduke's first preliminary match of the season was
Ramming Speed
. The match began with both robots colliding into each other in the middle of the BattleBox. Ramming Speed ended up driving over The Archduke's wedge and Ramming Speed lost power on three of its drive wheels. The Archduke could only move backward and started slamming into Ramming Speed before the time ran out. The Archduke won 25-20 and advanced to the next round against
Chimera
.
In the match, The Archduke had problems moving and Chimera went straight for it but one of its wheels came off. The Archduke avoided Chimera's flipper and The Archduke started pushing Chimera from behind. Chimera started to slow down before the time ran out. The Archduke won 31-13 and advanced to the taped round against Pestilence, but Pestilence had technical issues so it was forced to forfeit. This put The Archduke to the round of 32 against Lisa Winter's Mecha Tentoumushi.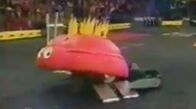 In the beginning of the match, The Archduke shot forward and was caught by Mecha Tentoumushi's smothering shell. Mecha Tentoumushi dragged The Archduke around but The Archduke reversed and started pulling Mecha Tentoumushi. The Archduke managed to take Mecha Tentoumushi to the pulverizer and Mecha Tentoumushi ran itself under the pulverizer, with The Archduke still inside its shell. The two robots started pushing each other again until the time ran out. Mecha Tentoumushi won on a 31-14 judge's decision and The Archduke was eliminated from the competition.
The Archduke wasn't done, however, as it entered in the lightweight consolation rumble in the end of the tournament. It is unknown how it performed, but it eventually lost to The Crusher and Reaper.
Wins/Losses