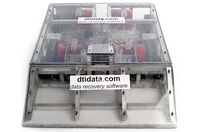 The Administrator was a heavyweight robot which competed in Season 3.0 of BattleBots. It was a translucent box-shaped robot armed with a lifting wedge. It didn't perform well in competition, losing its first match to Greenspan.
Robot history
Season 3.0
The Administrator's only opponent was Greenspan. Since there were no hazards other than the spikestrip, Greenspan shot straight across the box when the light turned green. It was the teams intent to place The Administrator in a purely defensive posture, which worked well until the weapon seized. After that, Greenspan fought with just the rear wedge. Greenspan managed to slam The Administrator into the spikestrip enough times to win the match on a 27-18 judge's decision.
Wins/Losses
Ad blocker interference detected!
Wikia is a free-to-use site that makes money from advertising. We have a modified experience for viewers using ad blockers

Wikia is not accessible if you've made further modifications. Remove the custom ad blocker rule(s) and the page will load as expected.