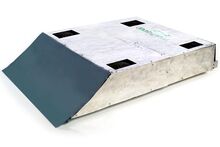 That Good R&D
was a heavyweight robot which competed in Season 3.0 of
BattleBots
. It was a four-wheeled box-shaped robot armed with a wedge and a rear spinning blade which did not work in its only battle. It did not do well in competition, losing its only fight to eventual semifinalist
HexaDecimator
.
The team that bult That Good R&D also built a lightweight named DiamondBack.
Robot history
Season 3.0
That Good R&D's first try was against HexaDecimator. In the beginning of the match, HexaDecimator was having trouble getting it's flipping arm under That Good R&D. Shortly after, HexaDecimator finally got underneath That Good R&D and hold it on top with the flipping arm, then driving it against the arena wall. At some point, HexaDecimator's flipping arm jammed That Good R&D's drive train and disabled the motor controller. This immobilized That Good R&D and it was now being counted out. HexaDecimator won by KO and That Good R&D lost.
Wins/Losses
Ad blocker interference detected!
Wikia is a free-to-use site that makes money from advertising. We have a modified experience for viewers using ad blockers

Wikia is not accessible if you've made further modifications. Remove the custom ad blocker rule(s) and the page will load as expected.