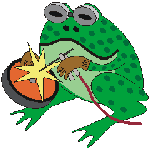 Team Toad
is a well-known team throughout the Battlebots community. The team was lead by
Michael Mauldin
. It has build many bots, some still competing today. They had good success, and they have built many bots that competed both in and out of Battlebots. The team had stopped competing after RoboGames 2011 with
Avalanche
and ComBots 2011 with
Blizzard
but returned to robot combat in 2014 with
Polar Vortex
and have continued to compete at RoboGames as of 2017. Middleweight Lionheart also fought at the 2017 RoboGames.
The Team Toad sticker appeared on most robots in Season 3.0 and 4.0. It even made appearances on Robot Wars: Extreme Warriors and various well-known landmarks.
Team Toad also competed in the second episode of the World Series special aired as a part of the tenth series of Robot Wars.
Mauldin confirmed on facebook that team toad will return to Battlebots with an upgraded version of Polar Vortex called Hypothermia.
| Robot | Weight class | Events competed in |
| --- | --- | --- |
| FrostBite | Heavyweight | Season 2.0-Season 5.0 |
| IceBerg | Superheavyweight | Season 3.0-Season 5.0 |
| SnowFlake | Lightweight | Season 3.0-Season 5.0 |
| IceCube | Middleweight | Season 3.0-Season 5.0 |
| WindChill | Middleweight | Season 3.0-Season 4.0 |
| SnowCone | Lightweight | Season 5.0 |
| TadPole | Antweight | Season 5.0/BattleAnts |
| El Furro | Antweight | Season 5.0/BattleAnts |
Wins/Losses