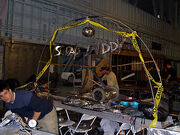 Team Scrap Daddy was a team from Texas that competed in the last four seasons of BattleBots. Three of the robots from this team have a history of never winning a fight, but the other two were successful. All of Team Scrap Daddy's robots were built from parts from junkyards, hence the name, and were low-tech compared to others in their respective weight classes.
The team was captained by Mark Bradford who built all four Scrap Daddy robots and Swordfish.
Robots entered into BattleBots
Ad blocker interference detected!
Wikia is a free-to-use site that makes money from advertising. We have a modified experience for viewers using ad blockers

Wikia is not accessible if you've made further modifications. Remove the custom ad blocker rule(s) and the page will load as expected.