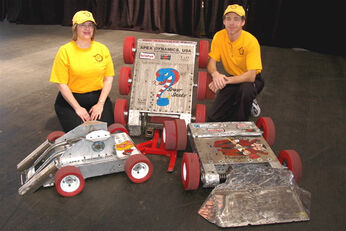 Team PlumbCrazy creators of Sewer Snake, both incarnations of
Stinger: The Killer Bee
, Devil's Plunger, Wipe Out, Angry Asp, Pipe Wench, PSS Ant, and Evil Plunger
Team Members Matt and Wendy Maxim are best known for their high-speed robots with lifting/flipping arms, namely Stinger: The Killer Bee, Sewer Snake and Devil's Plunger. Each of these three robots is known for doing well in competition by managing to press on even with the damage piling up, especially Sewer Snake, which has managed to defeat its long-time rival Last Rites even when there's few wheels left attached on its body.
Ad blocker interference detected!
Wikia is a free-to-use site that makes money from advertising. We have a modified experience for viewers using ad blockers

Wikia is not accessible if you've made further modifications. Remove the custom ad blocker rule(s) and the page will load as expected.