Stewbot
was a lightweight "robot" that competed at Season 2.0 of
BattleBots
. It was an R/C truck with a trailer full of Lego bricks in the back. It lost its only fight against
The Crusher
, as it was overturned and then destroyed by the pulverizer.
Stewbot was entered by John Hargrave, host of Computer Stew, a comedy show about technology. Stewbot was used to advertise Hargrave's show. The robot was not a serious entry at all.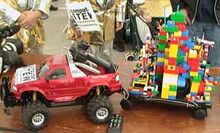 Robot History
Season 2.0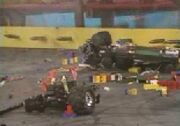 Stewbot's only match of the season was against
The Crusher
.  At the start of this match, it was apparent that Stewbot had no control (the radio signals couldn't penetrate the BattleBox's Lexan) and it couldn't move at all. The Crusher approached the immobile Stewbot and carefully pushed it over to the Pulverizer, where Stewbot was completely destroyed in a shower of Lego parts. The blows also smashed the R/C car in half and was counted out. The Crusher obviously won this match and the remains of Stewbot were thrown away in a trash bag.
Wins/Losses:
Ad blocker interference detected!
Wikia is a free-to-use site that makes money from advertising. We have a modified experience for viewers using ad blockers

Wikia is not accessible if you've made further modifications. Remove the custom ad blocker rule(s) and the page will load as expected.