For the second version of Wedge of Doom that competed in Season 3.0-5.0, see Wedge of Doom
Spike of Doom was a lightweight multibot built by Tony Buchignani of Team Delta and Andrew Lindsey that competed in the Long Beach 1999 event of BattleBots. The multibot consisted of the original Wedge of Doom and a robot named Spike that was armed with a grabbing arm. It performed decently in competition, winning twice and losing twice.
Spike was built by the same team that built Mantis for Season 3.0.
Originally, both robots competed as themselves at the original US Robot Wars in the featherweight category, as Spike and Wedge of Doom.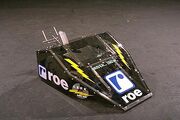 At the the 1996 Robot Wars, Wedge of Doom beat Spike. Wedge of Doom remained unchanged whilst Spike only kept its original chassis, replacing everything else.
Spike took part in the unaired Robot Wars MTV pilot, but was destroyed by Mauler.
Robot history
Long Beach 1999
Spike of Doom's first match may have been up against The Missing Link. Immediately, both opposing robots charged at The Missing Link, before it attacked Spike with its circular saw. This hit stalled the motor that powered the saw blade, but also incapacitated Spike. Wedge of Doom began having control problems at this point, and was also knocked out by The Missing Link after suffering a few hits from its tail. Despite both parts of the multibot being immobilized, the fight had already been over as, due to the regulations concerning multibots at the time, once 50% of the robot had been knocked out, the entire robot was declared as out. The Missing Link won by KO in 38 seconds and Spike of Doom was now in the loser's bracket.
Wins/Losses
Ad blocker interference detected!
Wikia is a free-to-use site that makes money from advertising. We have a modified experience for viewers using ad blockers

Wikia is not accessible if you've made further modifications. Remove the custom ad blocker rule(s) and the page will load as expected.