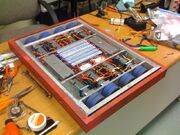 SpiderPig
was a middleweight robot built by the Everglades Team (Who would later build El Cholo, Fluffy DeLarge, and
HyperShock
) for the Pro Championships 2009 competition. It was a low 8-wheeled robot with 1-inch thick steel armor and two vacuums which kept the robot from being wedged under or flipped. It also had two drums for weapons. It is unknown how well it did, but it did lose in the round of 16 to an eventual finalist
The Blender
.
It was probably named after the pig in The Simpsons Movie.
Robot History
Pro Championships 2009
Little is known about who they fought in the qualifier, but we do know they won. This match gave them the 16 seed where they faced the 1 seed The Blender. In SpiderPig's second match, SpiderPig repeatedly charged at The Blender before SpiderPig managed to get The Blender from spinning. The Blender spun again and both robots continued hitting and avoiding each other until the fight ended. The Blender won the unanimous judges decision, eliminating SpiderPig from the competition altogether. SpiderPig wasn't done yet, they competed in a grudge match, but all we know is that SpiderPig lost.
Wins/Losses
Competition
Wins
Losses
Pro Championships 2009
?
The Blender

??? (Grudge Match)
Ad blocker interference detected!
Wikia is a free-to-use site that makes money from advertising. We have a modified experience for viewers using ad blockers

Wikia is not accessible if you've made further modifications. Remove the custom ad blocker rule(s) and the page will load as expected.