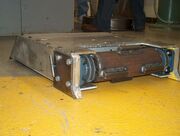 Spawn of Gemini
was a middleweight competitior that competed in the 2009 High School Championship. It was built by the Buffalo Grove High School and was a low box robot with a wedge on one end and a drum on the other end. Buffalo Grove High School also entered
Rhoto
in the same competition.
Robot History
2009 High School Championship
In Spawn of Gemini's fight against The Blender, Spawn of Gemini didn't have the best start. Spawn of Gemini was not moving and got smacked into the corner by The Blender. Spawn of Gemini moved before stopping again. Spawn of Gemini escaped after The Blender got three more hits. Spawn of Gemini stopped again before The Blender hit it again and this blow brought Spawn of Gemini back to life. Another blow from The Blender sent Spawn of Gemini into the wall before Spawn of Gemini drove. Spawn of Gemini's drum had stopped working, reducing it to a wedge bot. The last attack from The Blender sent Spawn of Gemini into the screws by the red square. Gemini stopped moving again and the team tapped out at 1 minute 56 seconds, giving The Blender the win.
Ad blocker interference detected!
Wikia is a free-to-use site that makes money from advertising. We have a modified experience for viewers using ad blockers

Wikia is not accessible if you've made further modifications. Remove the custom ad blocker rule(s) and the page will load as expected.