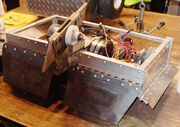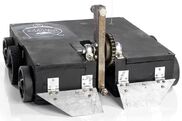 Sparky
was a lightweight robot which competed in Seasons 3.0 and 5.0 of
BattleBots
. It was originally a two-wheeled robot armed with a vertically-spinning bar and two wedges to feed opponents into the spinner. This version of Sparky did decently, winning one battle, and the robot was completely rebuilt for Season 5.0, now with a different spinning blade and hinged skirting all around, named
Sparky v2.0
,. However, this version of Sparky lost its first battle.
After BattleBots ended, Sparky was rebuilt one last time into Sparky 3.0 and was entered into RoboGames.
Robot history
Season 3.0
Sparky's first ever opponent was Bambino. Sparky won on a 39-6 judge's decision and advanced to meet Wacker.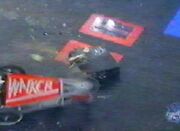 In the match, Wacker got its spinning blade into Sparky and ripped two wheels off. After this, Wacker was destroying Sparky's armor. Amazingly, Sparky was still moving and the time ran out shortly after. Wacker won on a 34-11 judge's decision and Sparky was eliminated.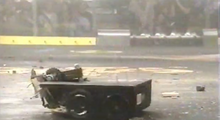 Season 5.0
Wins/Losses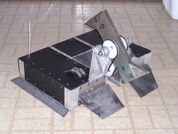 Ad blocker interference detected!
Wikia is a free-to-use site that makes money from advertising. We have a modified experience for viewers using ad blockers

Wikia is not accessible if you've made further modifications. Remove the custom ad blocker rule(s) and the page will load as expected.