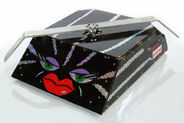 Snuggabot was a middleweight robot which competed in Season 4.0 of BattleBots. It was a black wedge-shaped robot armed with an overhead spinning blade. It didn't perform well in competition, losing its first and only battle against CU-Denver Demagogue.
Robot history
Season 4.0
Demagogue was too low to be hit by Snuggabot's spinning weapon, and it pushed it around, slamming it into the walls twice and breaking the spinning blade. Demagogue also chipped away at it a bit with its rear saws to score some points. The match ended with the judges declaring CU-Denver Demagogue the winner, 37-8.
Wins/Losses
Ad blocker interference detected!
Wikia is a free-to-use site that makes money from advertising. We have a modified experience for viewers using ad blockers

Wikia is not accessible if you've made further modifications. Remove the custom ad blocker rule(s) and the page will load as expected.