Snipe was a lightweight competitor which competed in seasons 3.0 and 5.0 of BattleBots. It was originally armed with a rotating blade, but for Season 5.0 it was completely rebuilt to feature a horizontally-spinning disc. Despite these revisions, it lost both of its first matches. Snipe also attended Season 2.0, but didn't compete due to electrical issues.
The team that built Snipe also built middleweight Minnesota Mangler and heavyweight Hug Wagon.
Robot history
Season 2.0
Season 3.0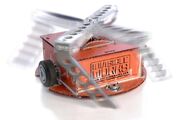 Wins/Losses
Ad blocker interference detected!
Wikia is a free-to-use site that makes money from advertising. We have a modified experience for viewers using ad blockers

Wikia is not accessible if you've made further modifications. Remove the custom ad blocker rule(s) and the page will load as expected.