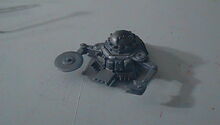 Slicer was one of two Practice bots that came with the Grip & Grappler toys. The other being the Striker toy. Like most of the other BattleBots toys, Slicer has a destruct button at the front that if struck would cause the toy's arms to fold in and its top to pop open. This Practice Bot was included with the following Grip 'N Grappler toys:
Ad blocker interference detected!
Wikia is a free-to-use site that makes money from advertising. We have a modified experience for viewers using ad blockers

Wikia is not accessible if you've made further modifications. Remove the custom ad blocker rule(s) and the page will load as expected.