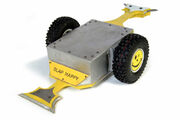 Slap Happy
was a middleweight robot that competed in Season 4.0 of
BattleBots
. It was a box-shaped robot armed with two uniquely-shaped yellow hammers, one slightly longer than the other. It did decently in competition, both winning and losing one fight.
The team that built Slap Happy also built Paul Bunyan for the second season of Robot Wars: Extreme Warriors.
Robot history
Season 4.0
Slap Happy went up against Team WhoopAss' Caliban. The bots circled each other and did a bit of glancing hitting and pushing. Later, Caliban got more aggressive. Caliban had a nasty spin-in-place move; much stronger than Slap Happy's, and also a lower profile. He got under Slap Happy more than once. Slap Happy appeared to be losing control later in the fight. The big hits by Caliban much have broken something internal. Caliban won a 31-14 decision.
Wins/Losses