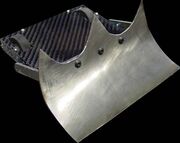 ShazBot was an Antweight robot built by Team Nightmare that competed at the 2004 NPC Charity Open. It was a Black, two wheeled, invertible robot armed with a 360 degree articulated lifting plow. Shazbot did well in the competition, becoming the runner up after losing to teammate MicroNightmare in the finals. ShazBot is still competing today, most recently appearing at the 2015 Dragon Con Robot Battles where it went 1-1. ShazBot also competed in the first RoboGames event, the 2004 ROBOLympics where it performed well.
Robot History
2004 NPC Charity Open
ShazBot's first fight was against Cerberus. ShazBot won this fight, and advanced to the next round where it fought POW. After beating that opponent it was now drawn against Team Nightmares other entry to the Antweight division, MicroNightmare. ShazBot won this fight, and was now up against One Fierce Beer Coaster. It won this fight, and was now in the final against MicroNightmare. This time however MicroNightmare beat ShazBot, and it became the Antweight runner-up.
Wins/Losses
Ad blocker interference detected!
Wikia is a free-to-use site that makes money from advertising. We have a modified experience for viewers using ad blockers

Wikia is not accessible if you've made further modifications. Remove the custom ad blocker rule(s) and the page will load as expected.