Episode 3 of BattleBots Season 1.0 was the third televised episode of BattleBots and determined the Quarter-Finalists of the 1st season of BattleBots.
Matches
Pressure Drop vs. Subject to Change Without Reason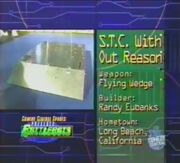 In the match, Pressure Drop slowly moved out of its square and S.T.C.W.R. started slamming into Pressure Drop. Pressure Drop attempted to hit S.T.C.W.R. with its pickaxe, but missed and S.T.C.W.R. suddenly broke down. Pressure Drop started walking slowly towards S.T.C.W.R., but couldn't make it there before the buzzer sounded. However, Derek Young ignored the buzzer, walked Pressure Drop into position, and struck a blow on S.T.C.W.R.'s top. Young received a warning for this, but Pressure Drop still went through to the quarterfinals.
Winner- Pressure Drop via KO
Shaft vs. Mouser Mecha-Catbot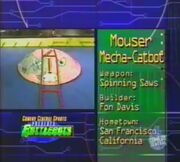 Both robots moved slowly out of their squares and Shaft pushed Mouser against the spikestrip, while Mouser was trying to flip Shaft. Mouser drives away from the spikestrip and Mouser started flipping Shaft again. Shaft got it's ramming plate stuck inside Mouser's flipping arm and managed to escape, before getting tossed by the killsaws. Mouser was being pushed by Shaft again and tried to flip it. Shaft accidentally got itself caught on the killsaws again and Mouser gets caught on killsaws moments after. After flipping Shaft from the front and side, Shaft pushed Mouser against the spikestrip and Mouser attempt to flip Shaft again. Shaft then got itself caught on the arena sledgehammer. Mouser was being pushed by Shaft again after Mouser opened it's flipping arm and Mouser tried pushing Shaft toward the killsaws. Shaft escapes and pushed Mouser against the spikestrip before the time ran out.
Winner- Mouser Mecha-Catbot via 6-3 Judges Decision
Vlad the Impaler vs. Tazbot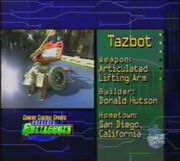 In the beginning of the match, Tazbot went straight at Vlad and started lifting it towards the killsaws. Vlad escaped and went straight at Tazbot, where it was flipped and pushed against the entrance ramp. Tazbot was flipped back to its wheels by Vlad and Tazbot was lifted again against the spikestrip. Tazbot was flipped and righted again but started smoking after many lifts by Vlad. Tazbot was once again lifted from Vlad and slammed it against the arena wall, where Vlad reversed Tazbot (as it was on the top rear of Vlad) and the ramrods flipped it. Vlad pushed the flipped Tazbot against the corner of the arena before the time ran out.
Winner- Vlad the Impaler via 9-0 Judges Decision
Ad blocker interference detected!
Wikia is a free-to-use site that makes money from advertising. We have a modified experience for viewers using ad blockers

Wikia is not accessible if you've made further modifications. Remove the custom ad blocker rule(s) and the page will load as expected.