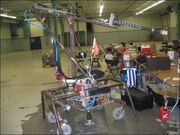 Russell's Paradigm
was a Superheavyweight robot that attended the 2004 NPC Charity Open. It was a five-legged walkerbot constructed mostly out of steel tubing, and armed with a hydraulic harpoon. A unique aspect of this robot aside from its weapon was that its legs were powered by hydraulics instead of gas, or electricity.
Russel's Paradigm did not compete in the main competition (Likely either due to being overweight, or technical issues, however the former is more likely), however it did go into the arena alone for a tech demo, as well as fight in a royal rumble.
Gallery
Ad blocker interference detected!
Wikia is a free-to-use site that makes money from advertising. We have a modified experience for viewers using ad blockers

Wikia is not accessible if you've made further modifications. Remove the custom ad blocker rule(s) and the page will load as expected.