Rott-Bott
was a lightweight robot which competed at the Long Beach 1999 event and Season 1.0 of
BattleBots
. It was an invertible robot armed with two spinning saw blades. It was originally made of wood at Long Beach and then was made of steel during Season 1.0. Also, it was renamed
Rott-Bott 2000
in Season 1.0. Despite these changes, it never won a match, but it did win a consolation rumble in Season 1.0.
It was built by Brian Scearce, who also built the middleweight competitor Halo.  
Robot History
Long Beach 1999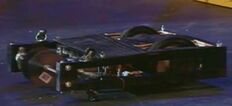 Rott-Bott's first match in Long Beach was against
Team Vicious
'
Deathtrap
. In the match, Rott-Bott was lifted by Deathtrap several times and lost on a judge's vote, knocking Rott-Bott to the loser's bracket where it lost to
Gorange 3
on a crowd vote.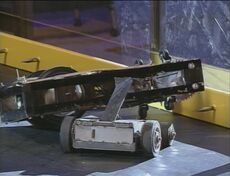 Season 1.0
Rott-Bott 2000's only match in Season 1.0 was against Paul Mathus'
Das Bot
. In the match, Rott-Bott was immediately pushed by Das Bot into the killsaws, where it was sent flying. This impact from the knocked out Rott-Bott and it was counted out and eliminated from the competition.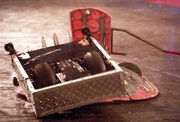 Rott-Bott 2000 wasn't done, however, as it entered in one of two lightweight consolation rumbles. In the beginning of the rumble, Rott-Bott's weaponry wasn't working, so it nudged 
Dr. Inferno Jr.
and
Mouser Mecha-Catbot
. Rott-Bott was then pushed by Mouser Mecha-Catbot over
Sallad
. Rott-Bott later pushed
Chiabot
against the spike strip. Rott-Bott then did battle with Mouser Mecha-Catbot, being flipped several times but shoving it against the spike strip. Rott-Bott then drove over Sallad and was attacked by
Serial Box Killer
. Rott-Bott continued to battle Mouser until time ran out. The judges chose Rott-Bott 2000, Sallad, Serial Box Killer, and Mouser Mecha-Catbot to advance to the royal lightweight rumble.
Wins/Losses
Ad blocker interference detected!
Wikia is a free-to-use site that makes money from advertising. We have a modified experience for viewers using ad blockers

Wikia is not accessible if you've made further modifications. Remove the custom ad blocker rule(s) and the page will load as expected.