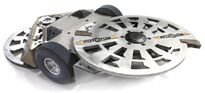 Rotator is a robot that competed in the second season of ABC's BattleBots reboot. It was armed with a spinning disc on the front top and bottom rear, making it a palindrome like its name. Rotator was originally an alternate for the show, but was allowed in due to one of the many drop-outs which occurred at Season 2. It didn't do well in the competition as it lost its first match to Witch Doctor, but did win a constellation rumble.
Its builder Victor Soto also competed with the middleweight entrant Blue Flame for the NPC Charity Open in 2004 and the 2011 BattleBots competition.
Robot History
ABC Season 2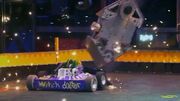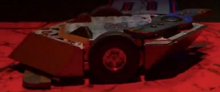 Rotator's first ever match in BattleBots was against Witch Doctor. For this match, Rotator went with the stronger steel bars as the team knew that the aluminum discs would be destroyed. In the beginning, Rotoator opted to start sideways to try and confuse Witch Doctor's drivers. Both robots approached but Rotator's wheel rims weren't fully gripping the tires and thus Rotator only slowly approached. Witch Doctor immediately ripped a wheel off of Rotator and it couldn't move properly. Because of this, Rotator was counted out and Witch Doctor won the match by a quick KO. Rotator unfortunately was not chosen to be a wild card meaning it was eliminated from the tournament.
Rotator wasn't finished yet as it participated in a small rumble with The Disk O' Inferno and Splatter. The rumble didn't start off particularly well for Rotator as it wasn't able to cause much damage and lost the use of one of its spinning blades. Splatter came in and began to flip Rotator multiple times, trying to get it out of the arena. Rotator continued to maneuver around before The Disk O' Inferno slammed it into the wall where the impact caused Rotator's remaining disc to collide with The Disk O' Inferno's and take a chunk out of it. Splatter took advantage of The Disk O' Inferno's weapon problems by flipping it over. Rotator started dishing out multiple hits to Splatter, tearing open Splatter's side and leaving it to drive in circles. Time ran out and Rotator was declared the winner of the rumble by a unanimous judges decision.
Wins/Losses
Faruq Tauheed Introductions
"Flip it, flop it, you can't stop it. It's ROTATOR!"
"If it were a classic rock band, it would be REO Bleed Wagon. Roll with the changes, it's ROTATOR!"
Ad blocker interference detected!
Wikia is a free-to-use site that makes money from advertising. We have a modified experience for viewers using ad blockers

Wikia is not accessible if you've made further modifications. Remove the custom ad blocker rule(s) and the page will load as expected.