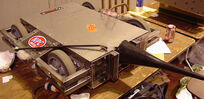 Rock-Hard was a middleweight robot which competed in the final two seasons of BattleBots. It was originally a blue square-shaped robot armed with an axe which had a lifter attachment (similar to Deadblow) before it was updated to an invertible four-wheeled robot with a lifting spike. It didn't perform well in competition, losing its first match in both appearances.
Robot history
Season 4.0
In Rock Hard's only fight in Season 4.0, it fought Malvolio. Rock-Hard immediately sped across the BattleBox but stopped right in front of Malvolio. Rock Hard was then hit by Malvolio's weapon, which had spun up, twice in the front. On the second hit, Rock Hard as rammed into the spike strip. Rock Hard was rammed again by Malvolio, which then stopped spinning for fear of breaking the weapon. Rock-Hard tapped out at that point, eliminating Rock Hard.
Season 5.0
Wins/Losses
Ad blocker interference detected!
Wikia is a free-to-use site that makes money from advertising. We have a modified experience for viewers using ad blockers

Wikia is not accessible if you've made further modifications. Remove the custom ad blocker rule(s) and the page will load as expected.