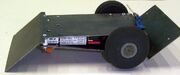 RobotussinDM was an Antweight robot built by Team XD that competed in the 2004 NPC Charity Open. It was a two wheeled, invertible, Gray, trapezoidal wedge shaped robot with no active weaponry. RobotussinDM did well in the competition reaching the losers bracket semifinals before losing to eventual champion MicroNightmare. Team XD also built SuperHeavyweight Steel Reign, which reached the round of 32 in Season 5.0.
Robot History
2004 NPC Charity Open
RobotussinDM's first fight was against POW. It lost this fight, and was now in the losers bracket where it faced Cerberus. It won this fight, and was now drawn against 1A. It won this fight and progressed to the losers bracket quarterfinals where it faced ...Tysant. It won this fight as well putting it in the losers bracket semifinals against MicroNightmare. It lost this fight, and was eliminated from the tournament.
Wins/Losses
| Competition | Wins | Losses |
| --- | --- | --- |
| 2004 NPC Charity Open | Cerberus | POW |
Trivia
RobotussinDM is Team XD's most successful BattleBots entry, being their only robot to reach the semifinals, and their only robot to have more wins than it does losses.
Ad blocker interference detected!
Wikia is a free-to-use site that makes money from advertising. We have a modified experience for viewers using ad blockers

Wikia is not accessible if you've made further modifications. Remove the custom ad blocker rule(s) and the page will load as expected.