RoboSapien
is a heavyweight robot built by Team BattleBobs which competed in Season 3.0 of
BattleBots
. It was an invertible robot armed with a spinning wedged ring. It reached the round of 32 in its only season, winning two fights before losing to
OverKill
.
Team BattleBobs also built a middleweight named Portable Killsaw, which wasn't as lucky.
Today, RoboSapien is retired from combat and is now at Hunter High School located in West Valley City, Utah. It is being used as a transport vehicle for their FIRST Robotics machines.
Robot History
Season 3.0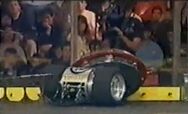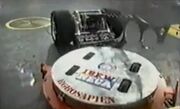 RoboSapien's first match in Season 3.0 was against
Jolly Roger
. RoboSapien won by KO at 1:02 and advanced to the TV rounds, where it faced
Bad Badger
. RoboSapien won on a 42-3 judge's decision and it advanced to the round of 32, where it faced
OverKill
.
About a minute into the match, OverKill was pushing RoboSapien against the spikestrip and was stuck underneath the spikes. OverKill started hitting the trapped RoboSapien with its blade while it was being counted out. OverKill won by KO at 1:36 and RoboSapien was eliminated from the competition.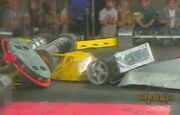 RoboSapien wasn't finished, however, as it participated the heavyweight consolation rumble at the end of the tournament. After an immediate hit from Mauler 51-50, RoboSapien was being pushed by Little Sister and was flipped in an immobile position against the spikestrip. RoboSapien was left there for the rest of the rumble and lost overall to Little Sister and Kill-O-Amp.
Wins/Losses
| Competition | Wins | Losses |
| --- | --- | --- |
| Season 3.0 | | OverKill |
Ad blocker interference detected!
Wikia is a free-to-use site that makes money from advertising. We have a modified experience for viewers using ad blockers

Wikia is not accessible if you've made further modifications. Remove the custom ad blocker rule(s) and the page will load as expected.