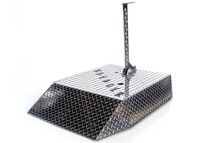 Ravager
was a middleweight robot that competed in the final 3 seasons of
BattleBots
. It was a silver step plate robot armed with a lifting arm that was interchangeable with a spiked axe. Despite the arm, it could not self-right. It performed decently in BattleBots, reaching the televised rounds in Season 4.0, but never went further than the round of 64.
Robot History
Season 3.0
Ravager's first ever match in BattleBots was against Phishfeuxd. Ravager won by KO in 46 seconds and advanced to the next preliminary round, where it faced No Tolerance II. Ravager won on a close 25-20 judge's decision and advanced to the final preliminary round, where it faced Sunshine Lollibot.
Ravager didn't move, so Sunshine Lollibot drove out and attacked Ravager with its saw until Ravager was counted out. Sunshine Lollibot won by KO and Ravager was eliminated from the tournament.
Season 4.0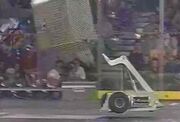 Due to lack of participants, Ravager was already in the TV rounds, where it eventually faced T-Minus. As T-Minus tried to get underneath Ravager, T-Minus flipped itself as it missed a flip on Ravager and self-rights immediately. Ravager then managed to get a flip on T-Minus and T-Minus self-rights over Ravager. T-Minus finally gets underneath Ravager and flips it. Ravager couldn't self-right as the system that was used couldn't have enough pressure due to the valve not being removable, and was counted out. T-Minus won by KO and Ravager was eliminated from the tournament again.
Season 5.0
Ravager's only match in Season 5.0 was against TriDent. TriDent won on a 34-11 judge's decision and Ravager was eliminated from the tournament once again.
Wins/Losses
Mark Beiro Introductions
"Agitating opponents more than that Wassup commercial, here is RAVENGER!"
Ad blocker interference detected!
Wikia is a free-to-use site that makes money from advertising. We have a modified experience for viewers using ad blockers

Wikia is not accessible if you've made further modifications. Remove the custom ad blocker rule(s) and the page will load as expected.