Randy and Jason Sklar are identical twin brothers and were most notable for their screen time on Battlebots, debuiting in Season 1.0 before they were replaced by Arj Barker and Brad Wallach for Season 4.0. Their sense of humor was enjoyed by the builders during pre-match interviews and occasionally provided details during matches that were underway.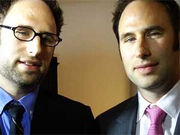 They were able to see Mechadon outside during one of their televised segments.
Ad blocker interference detected!
Wikia is a free-to-use site that makes money from advertising. We have a modified experience for viewers using ad blockers

Wikia is not accessible if you've made further modifications. Remove the custom ad blocker rule(s) and the page will load as expected.