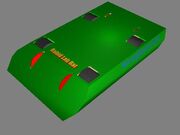 Rabid Lab Rat
was a lightweight robot which attended Season 3.0 of
BattleBots
. It was a four-wheeled robot armed with a front wedge and vertically-spinning discs. Despite attending the event, it missed its safety inspection and thus was forced to forfeit its match. Rabid Lab Rat did not return for another BattleBots competition.
Rabid Lab Rat was originally built for the first Robotica season, but it was not ready for the event and thus did not compete.
Ad blocker interference detected!
Wikia is a free-to-use site that makes money from advertising. We have a modified experience for viewers using ad blockers

Wikia is not accessible if you've made further modifications. Remove the custom ad blocker rule(s) and the page will load as expected.