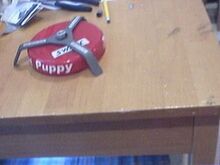 Punked Out Puppy was an antweight robot built by Team Trial and Error that competed in the 2004 NPC Charity Open. It was a Red, circular robot armed with a spinning tribar. Punked Out Puppy did poorly in the competition, losing both of its matches. The Team that built Punked Out Puppy (then located in Arizona) also built superheavyweights: Trial & Error which competed in Season 4.0, and Impact which competed in Season 5.0, both robots lost their first battle in their respective seasons.
Robot History
2004 NPC Charity Open
Punked Out Puppy's first match was against The Mailman. It lost this fight, and was now in the losers bracket where it fought Decidedly Undecided. It lost this fight as well, and was eliminated from the competition.
Wins/Losses
| Competition | Wins | Losses |
| --- | --- | --- |
| 2004 NPC Charity Open | None | The Mailman |