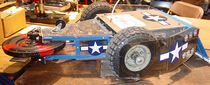 Problem Child (originally Spare Parts) was a middleweight robot which competed in the final three seasons of BattleBots. It was a two-wheel drive robot armed with a 25-pound horizontal spinning flywheel and a rear wedge (originally ablative armor, and then replaced by a pair of spikes before being changed into the wedge). It performed decently in competition, winning one fight in each season it competed in.
Robot history
Season 3.0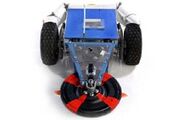 Season 4.0
Problem Child was scheduled to fight Killer Wasp, but it forfeited for some reason. Problem Child then went up against Chopper. The two both brought their powerful weapons to bear on each other, and parts flew. After several hits, Problem Child's lower Lexan protection was destroyed and it died. Chopper stopped moving soon after. Problem Child eliminated.
Season 5.0
Wins/Losses
Ad blocker interference detected!
Wikia is a free-to-use site that makes money from advertising. We have a modified experience for viewers using ad blockers

Wikia is not accessible if you've made further modifications. Remove the custom ad blocker rule(s) and the page will load as expected.