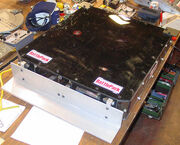 Plowbot was a middleweight robot which competed in the final two seasons of BattleBots. It was a box-shaped robot armed with a lifting plow. It performed decently in competition, reaching the round of 128 in its debut season.
Robot history
Season 4.0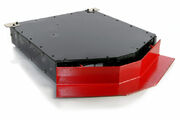 Plowbot's first fight was agianst Double Trouble, a wedgebot. After the initial charge to the center of the box misses, both robots slowly, and hesitantly circle each other, making little or no contact. Eventually, Double Trouble went dead and Plowbot hit it, getting underneath. Plowbot hits again and the robots become stuck together. However, rather than separating the robots and resuming the match, Team KillerBotz tapped out, knowing their bot was dead before the two got stuck.
Plowbot went up to bracket to face Bottom Dweller. Bottom Dweler was very slow. Plowbot was only a bit faster itself, but it was enough. it got a couple of nice pushes, and then a lift which enabled Plowbot to push Bottom Dweller all the way to the wall. The match then became little more than slow, weak pushing, with Plowbot winning 31-14. One more win and Plowbot would make it to the TV rounds. To do that, it had to beat TriDent.
The bots circled each other, and Trident used its far superior speed to get the position it wanted and ram Plowbot into the wall spikes. Trident basically had its way with Plowbot, ramming and shoving it and hitting it into the wall spikes. TriDent never seemed to use its lifting arm, though. At one point it rammed Plowbot hard enough to impale it, and the bots had to be separated. The judges gave TriDent the victory, 36-9, and Plowbot was out.
Season 5.0
Ad blocker interference detected!
Wikia is a free-to-use site that makes money from advertising. We have a modified experience for viewers using ad blockers

Wikia is not accessible if you've made further modifications. Remove the custom ad blocker rule(s) and the page will load as expected.