Phoenix
was a middleweight robot built by
Team Extreme
that competed during the last three
BattleBots
seasons. It was originally designed as a box with an overhead 360-degree lifting/pounding arm, but didn't work as successfully as the team hoped, losing in its first match in both Seasons 3.0 and 4.0. After their second defeat, Team Extreme scrapped the original chassis, and based their Season 5.0 version of Phoenix on the previous season's
M.O.E.
, fitting lighter wheels and a lighter drive system in order to push the heavyweight design down into the middleweight category. This version of Phoenix did quite well, defeating its first two opponents by knockouts before losing in a similar fashion.
Robot History
Season 3.0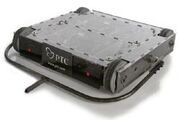 Phoenix's only match of the season was against
Team Toad
's
WindChill
. At one point WindChill lifted Phoenix against the wall. The fight went to the judges, who turned a 24-21 decision for WindChill.
Season 4.0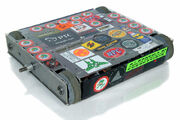 Phoenix's only match of the season was against
Malvolio
. In the match, Malvolio spun up and hit Phoenix's Lexan side, shattering it. This impact actually hit directly in the power on/off switch, instantly disabling Phoenix. Malvolio backed up to spin up again and hit Phoenix again, then stopped spinning and drove Phoenix into the spike strip. At this point, Phoenix tapped out.
Season 5.0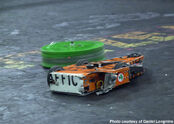 Phoenix's first bout was against
Goldie
where it won by knockout, then beat
Green Wave
by knockout as well. Phoenix was against
Moebius
next.
The match started and Phoenix got the hammers up to speed before Moebius got across the arena. The hammers and the spinning shell of Moebius collided with Phoenix putting a divot into Moebius' shell. This impact turned Phoenix so the weak side that had been damaged in his previous match faced Moebius. The back right corner was hit by Moebius, which peeled the armor back. The gash was then attaked by Moebius and the wheel was ripped clean off of the hub. Phoenix shut down after all of the digging and clawing by Moebius took its toll as the receiver cable came undone. Phoenix lost by knockout.
Wins/Losses
Trivia
The only robots Phoenix has ever defeated start with the letter "G".